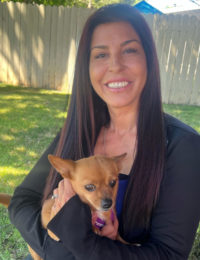 Angela has been working with animals for over 35 years – from obedience, field and show training to being a veterinary technician. In addition to her hands-on experience, Angela studied veterinary office management at Western Career College. She's worked at Reagor since 2007.
Angela and her husband, Jose, live in North Sacramento with their seven wonderful children and grandchildren. They also share their home with a wide variety of animals:
Two German Shepherds
Two "foo foo" small dogs
3 Cats
Two Tennessee Walkers and Two Friesians
Two African Congo parrots
In her spare time, Angela enjoys taking the children and grandchildren on fishing and hiking trips. Her personal interests also include horseback riding, Egyptian and Turkish dance, and fishing.