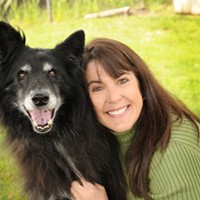 Dr. Hart was born in Reno, Nevada where she lived until moving to California in 1975. She settled in South San Francisco where she started working at a local pet hospital when she was just 13-years-old. Laura was a pretty single-minded kid, obsessed with becoming a veterinarian. By the time she was 15, she was taking x-rays and pulling teeth. Licensing laws were quite a bit more lax at that time, to say the least.
From 1984 to 1988 Laura kept working at the vet hospital on vacations. She worked at the zoo, volunteered at several horse farms and did whatever else she could to show that she meant business. Dr. Hart completed her bachelor's degree in animal science from UC Davis in 1988.
After graduation, Laura spent 1 ½ years in New Zealand and Australia as an agricultural exchange student, working on a dairy farm and a large cattle station, respectively. It still ranks as one of the most incredible things she's ever done. After returning to the states, she took a position as a laboratory technician for the California Veterinary Diagnostic Laboratory System where her team analyzed samples for pesticide residues.
Laura entered veterinary school at UC Davis in 1992. While studying, she worked in the intensive care unit for the school during the year and as a pharmaceutical representative for Vet-Kem, a prominent company that focused on the control of parasites. She earned her DVM in 1995 and subsequently did a year post-doctorate internship at a large practice in Southern California. Laura then relocated to Manhattan, New York and worked as an associate in a practice on the Upper West side for almost three years. She returned to California in 1998, joining Reagor Pet Hospital.
Shortly afterward Laura met her husband-to-be, Reed. Laura and Reed now have two boys, Nathan, 6, and Griffin, 2. They also share their home with Hogan, a big shepherd/collie/chow mix and their kitten, Timmy. Things are currently a little too full for a new pup, but they expect to get a Boston Terrier soon. (Laura has had Boston Terriers all her life and they remain her favorite breed.)
When Laura's not working, the family enjoys walking and camping. She loves to read fiction and with her little guys seems to spend a lot of time thinking about Star Wars, Transformers, Pokeman, Spider Man, the Wiggles and Yo Gabba Gabba.
Dr. Hart's philosophy as a veterinarian stems from a time when vets were an integral part of the community. The vet was a family friend, and the decision about what to do for the family pet was a group decision. Dr. Hart feels that it is her job to be both an advocate for your pet as well as an advocate for your family. She knows there is more than one way to solve a problem and her approach involves finding the right fit for each family.
Laura is a passionate believer in the human-animal bond and what it does for us. The goal at Reagor Pet Hospital is to be a place where your pet is treated as if it were one of their own.