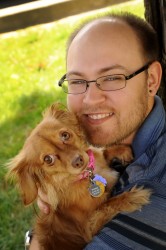 If you want to know about change, just ask Brian. His life changed dramatically in 2006 when he switched careers, met his future wife and got his first driver's license and car.
Brian had been studying to become a draftsman but needed a job. He always loved animals and went to work at Reagor as a kennel assistant. Shortly afterward he quit school and switched careers. He is now a veterinary assistant and is studying to become a veterinary technician.
Brian and his wife live in Sacramento. Although their apartment is pretty small they share it with their dog, three cats, and two fish tanks.