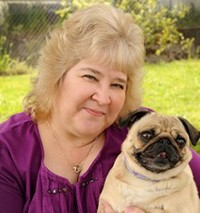 Denise's journey through the animal industry has been full of twists and turns as her hunger for more information took her to different areas within the animal care community.
In 1988 Denise completed the veterinary technician program through American River College. Because her husband was on active duty in the Navy, they had to move often. She worked part time in emergency medicine and dabbled in house sitting, grooming and boarding facilities.
Denise was fortunate to be able to work part time while taking care of her family. She joined PTA and was president of Sunrise girl's softball and vice president of Citrus Heights little league.
As her children got older and required less of her time, Denise decided to venture into professional grooming. She completed a 9-month course on pet grooming and worked for several years as a groomer in veterinary clinics. Denise's knowledge of veterinary medicine blended well with her grooming experience and opened doors for her within the corporate world.
In 1994 Denise was hired as a technician/groomer with NPC (National Pet Care Centers), which eventually was sold to VCA (Veterinary Centers of America). She worked for several years as a technician/groomer, eventually working her way up to Practice Manager. It was that experience that molded and created the person she is today.
Over the years Denise has had the opportunity to work in both private and corporate veterinary practices, giving her an appreciation of the unique qualities of each. Since August 2010 she has been Veterinary Practice Manager at Reagor Pet Hospital. A problem solver by nature, her personality fits well with the demands of her position.
Denise is proud to say that the doctors and staff at Reagor are among the best she has worked with, showing compassion while caring for our four legged friends. As Practice Manager, Denise's goal is to maintain a strong, positive work environment for all, and continue to manage the everyday needs of the clients, clinic and staff.
Like most people in the animal care industry, Denise has a few pets of her own,  Abigail, an 8 year old pug, F-gato a 5 year old Kitty, Mikey a 3 year old Kitty, and an African Grey Parrot named Anastasia.
Denise believes her life has been blessed by the opportunities she has had and the people she has encountered. And everyone at Reagor shares the same goals as she does: To be a voice for animals in need.